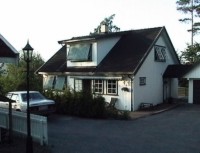 The estate has three buildings, the main house, the garage and the playhouse.
The main house is buildt in 1994. It has three floors, the basement, the ground floor and the first floor. The basement includes a separate appartement which is not part of the home exchange. The rest of the basement is currently under renovation. Here comes a combined livingromm and bedroom (in addition to a small wc). The room is due to be completed before christmas 2002. The ground floor and the first floor has four bedrooms, two baths, a livingroom and a big kitchen. The total area for is approximately 190 m2. For more information about the rooms visit the indoor section.
The garage is 45 m2 and has room for two cars (for more information about the cars visit the car section). The garage also stores two adult bikes and some bikes and toys for children. You are free to use these bikes and toys.
The playhouse is a small house (8 m2) in the garden at the basement level. You are free to use the playhouse and the accessories and toys in it.
In addtition to the buildings the estate has a two big terasses and a lawn (at the basement level). The two terasses is for your use only, but the lawn has to be shared with the tentants in the apartment. For more info about the estate visit the outdoor section.
If you want to take a stroll around the house you can download one of the videos below.